Advanced Chimney Solutions Provides
The Perfect Equation
31 years as a professional firefighter (now retired)
+
Over 3 decades in the chimney/hearth industry
= Dan DePriest, owner and operator of Advanced Chimney Solutions.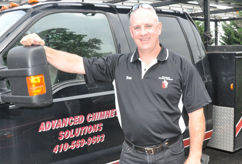 As a firefighter for Anne Arundel County from 1989 to the present, Dan understands the importance of safety when it comes to providing chimney and hearth services for your home. He has firsthand knowledge of the codes and standards set by the National Fire Protection Association and follows them to the letter. Dan personally oversees every job, big or small, and ensures all of his professional technicians adhere to his high standards.
"Being a family owned business, working in and around our own community, our reputation is everything. We believe in performing every task as if we were working in our own home for our own family. Our customer service can't be matched."
– Dan DePriest, owner since 2003.
Registered dealer with Regency Fireplace Products and Vermont Castings.
Member of the Hearth, Patio and Barbecue Association.